Different Types of Olives and EVOO in Spain
---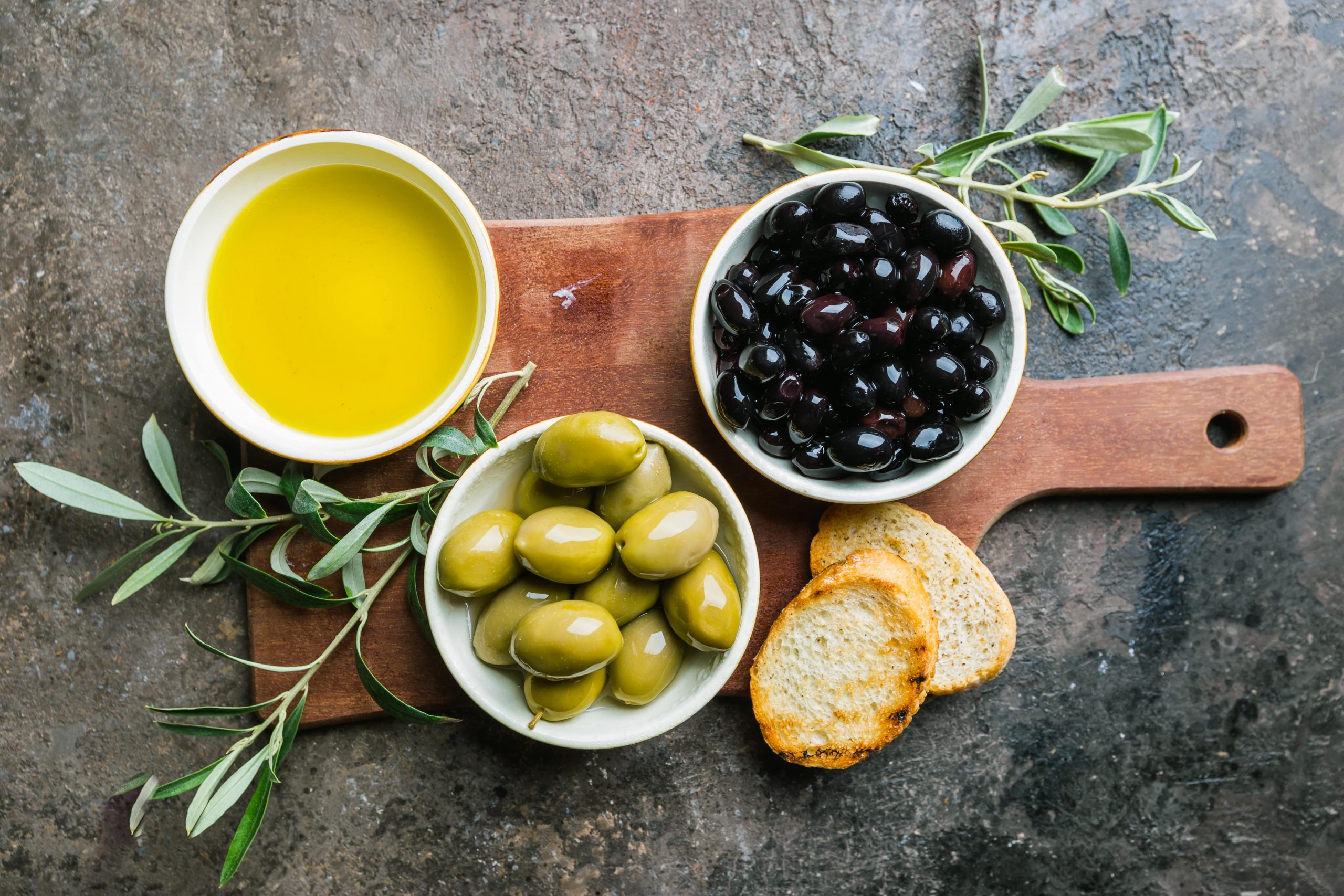 In Spain, there are more than 260 varieties of oil. Of all of them, extra virgin olive oil (EVOO) is the most renowned for its high quality. Depending on the production process, we can distinguish two large groups. On the one hand, coupage extra virgin olive oil, which is made from different types of olives and is characterised by its very balanced flavour.  On the other hand, we find single variety of extra virgin olive oil, which, as its name suggests, is made from a single type of olive.
In this second group, the monovarietal, the three most common varieties stand out: Arbequina, Hojiblanca, and Picual.
All of them are extra virgin olive oils, i.e. their degree of acidity does not exceed 0.8%. However, depending on the type or types of olive used, the flavour and aroma it imparts to food varies. Knowing their characteristics will help you to use the one that best suits your dishes and your palate.
We would like to describe below the main differences and characteristics of each olive variety and its oil.
1) Arbequina olive oil
The arbequina olive is small, its average ripening period is between the second week of December and the second week of January. Thanks to its high production and good fat yield, it is one of the varieties with the highest percentage of oil extraction.
The result of this olive is light, soft, delicately textured and sweet oils. The flavour may vary depending on the type of soil and climate where it is grown. It may sting a little in the throat; this is a clear indication of freshness.

Its oils are very aromatic, with characteristic olfactory notes of almond, tomato and apple. They are one of the most delicate oils against oxidation, so they should be consumed in a short period of time, maximum 4-5 months.
As it is a soft and sweet oil, it is perfect for introducing children to olive oil consumption. Mayonnaise or sauces can be prepared thanks to its delicate and mild flavour. In baking, it is perfect as a substitute for butter. It is also an ideal companion for toasts and salads, as well as for fish and seafood.
This variety of olive brings softness and subtlety to dishes, as well as fruity aromas.
2) Hojiblanca Oil
The hojiblanca olive gets its name from the whitish colour of the underside of its leaves. It is a highly valued green olive due to its high capacity to resist harvesting. It flowers during the first two weeks of May and ripens between the end of November and the end of December.
From its pressing, oils of golden tones and vegetable flavour with sweet touches are obtained, although at the end it produces a slight itchiness in the throat. Its aroma is characterised by the smell of freshly cut herbs and fruit, making it perfect for enhancing the flavour of blue fish, such as salmon or tuna, or for use in carpaccios. It is the perfect companion for pastas, creams, sautés and canned vegetables. Hojiblanca oil is the best flavouring for breakfasts, aperitifs, salads…
It is one of the oils that is recommended to consume when we are on a diet. It has a high content of unsaturated acids which enhances its beneficial properties.
3) Picual oil
The picual olive is so called because of the pointed shape at the end of the olive. The ripening of its fruits begins in the second week of November until the third week of December. It is a tree that adapts to different climate and soil conditions, but does not withstand drought very well.
The oil obtained from the picual olive is one of the most bitter and pungent. It has an intense flavour of wood and freshly cut herbs, combined with fruity herbaceous aromas such as olive, fig and tomato, giving it great strength and body.
Its oil enhances the flavour of ham, sausages, cured meats and cheeses. Perfect for use in salads and meats. When used for cooking at high temperatures, it maintains many of its properties, which makes this picual oil perfect for frying, such as breading and batter.
It is also an oil that gives a very special touch to slow stews and preserves for raw or cooked food. As for confectionery, it can replace butter in traditional sweets such as muffins.
Picual oil is one of the oils with more antioxidants, it can contain up to 80% of monounsaturated oleic acid.
4) Differences between arbequina, hojiblanca and picual olive oils
Extra Virgin Olive Oil is one of the richest foods included in the Mediterranean diet. It contains high levels of nutrients that help us to maintain a balanced and healthy diet for our daily life.
The main differences between arbequina, hojiblanca and picual extra virgin olive oils are:
Arbequina: One of the mildest and lightest oils of these varieties. It has slightly spicy notes that end in a pleasant sweet taste. Its almond flavour and aroma stand out, reminiscent of wild fruits. As we have already mentioned, it is perfect for gastronomic use in salads, desserts and as an accompaniment to other ingredients, as, thanks to its sweet taste, it does not camouflage their flavour. It is perfect to accompany anchovies, white tuna or to make mayonnaise or sauces.
Hojiblanca: It is characterised by its golden colour and tone and its mild flavour. It has sweet flavours at the beginning of the tasting and a slightly spicy taste at the end in the throat. Its almond aftertaste and notes of fresh grass and fruity, such as apple or banana, stand out. It enhances the flavour of any dish such as gazpacho or salmorejo, as well as blue fish such as salmon.
Picual: This is the most robust of the extra virgin olive oils that we present to you today. It has a tomato flavour and aroma, with hints of wood. It is one of the spiciest varieties. Thanks to its high antioxidant and polyphenol content, it is recommended for use at high temperatures such as frying, as it is the most resistant to heat.
There are three very different varieties, which offer us infinite possibilities when it comes to using them. When the oil is of high quality, each of them brings an intense and unique touch to our daily lives.