Tapas Culture in Spain
---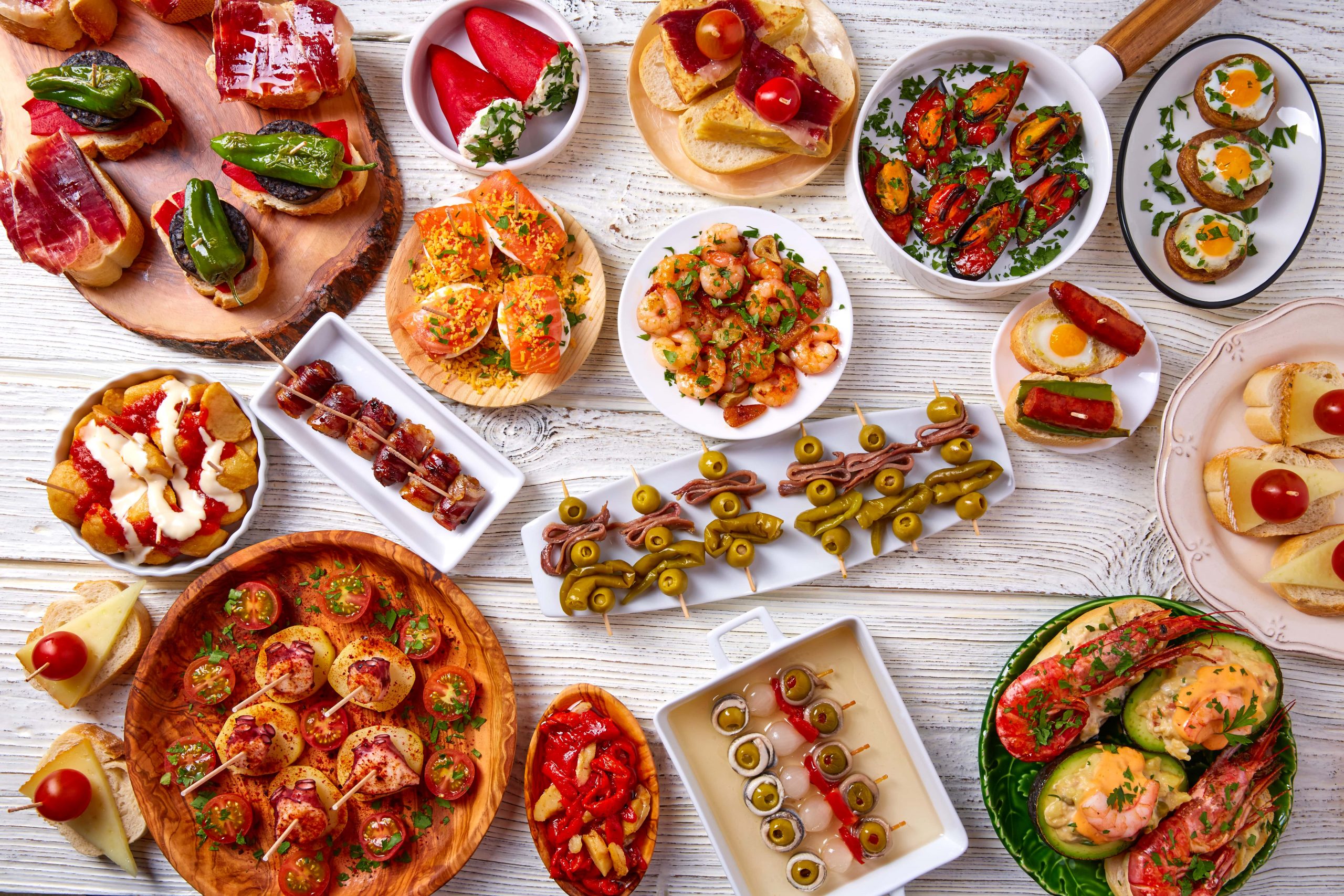 Eating tapas has become one of the most typical Spanish customs, which has now been exported all around the world, and locally adopted and adjusted to the local taste and needs. If Italy made pizza popular all over the globe, Spain is doing now the same with tapas.
But, what is a tapa?
A tapa is a small portion appetizer, which you can usually eat in one or two bites, that is normally served with a drink as a tasting and is eaten as an aperitif before lunch or dinner.
In Spain, it has become customary to go out for these small snacks with a drink before the main meals of the day (excluding breakfast, which is usually light in Spain).  Although it is common to see foreign visitors in Spain ordering multiple tapas together as a replacement for a full meal, for local Spaniards tapas are seen as a complement and usually only have one or two small side tapas before main meals.
The concept and experience of having tapas changes from region to region of Spain. In Southern Spain it is even free and included after ordering a drink.  In places like Segovia or Cáceres it is normal to find croquetas, tortilla de patatas or bocatines. In areas of Andalusia such as Almería or Granada, tapas are usually chosen by the consumer. In the North of Spain, mainly in the Basque country region, tapas are usually more elaborate and take the form of a pincho (pintxo in Basque) which consists of a slice of bread on which food is placed and held by a short skewer. This last form of tapa is not usually served by the waiter and can be obtained directly by freely picking up the tapas at the bar. At the end, the skewers are counted to obtain the total number of tapas (pintxos) consumed for payment.
Where does the word tapa come from?
As it is common with historical events, there are several theories about the origin of the name. The most popular explains that there was a custom to "cover" the wine with bread and ham so that no dust or insects could get inside ("tapa" means cover or lid in Spanish). It is not known for sure how this practice began and developed, although it is most commonly believed that started in Andalusia, but it has expanded and evolved over time and some types of tapas have even reached haute cuisine status.
History of the tapa
The tapa as we know it today was born in modern times, after the period of scarcity caused by the Spanish Civil War during 1936-1939. Even so, it is believed that it comes from before, from an old Spanish custom of eating small snacks. Its concrete date of origin is difficult to define, although it is established that it arose from the appearance of bars that began to serve small tapas as a courtesy to their customers.
Another version of the story claims that tapas were born as a result of an illness of King Alfonso X the Wise during the late 13th century. In order to cure him and recover, he was forced to eat small snacks between meals together with small sips of wine. After his recovery, the king suggested to the inns of Castile (the central region of Spain) to always serve some food with the wine.
The tapas culture in Spain
Tapas combine two very typical customs in Spain, reinventing the joy of eating and drinking as a way of socialising. Bars and bar sections of restaurants are used as a social meeting place to meet friends and also strangers. The verbs "tapear" or "ir de tapas" arise from the concept of going to different bars in succession, or bar hopping, to have a drink and small appetizer to go along in each, instead of remaining seated in a single place for a long time. This bar hopping usually takes place with bars that are very closely located, often times in the same street or even in the very next door building. That´s why is common to see crowds of people eating tapas and drinks standing right outside bars blocking narrow streets.
Tapas culture in Spain just describes the relaxed and positive approach to life of Spaniards, finding often enough time a day to sit down and have a drink and a bite without working, or stressing, and enjoying a conversation with a friend or a person that just met.  Spanish people tend to look positively to a hedonist lifestyle, enjoying the simple moments of life. As many Spaniards deeply believe, life is just four days, and three of them have already passed. Thus, maximize today´s joy.
Tapas types
Tapas can be either warm or cold dishes and vary greatly by region and season. There are literally hundreds, perhaps thousands of different tapas. A few of the most popular tapas which can be found all around Spain are the following:
Jamón ibérico Pata Negra (cured Spanish ham): In many Spaniard's opinions, the original tapa. The Ibérico ham is a superior quality variety that is from 100% acorn-fed Iberian race pigs.
Manchego cheese: The other classic, eating by itself along with a glass of red wine.
Tortilla Española: Spanish Omelet, or thick crunchy omelet made with potatoes, peppers, and onions.
Patatas Bravas: crispy potatoes on the outside and soft in the inside served with spicy hot tomato sauce, oftentimes also with alioli (garlic mayonnaise with olive oil).
Olivas: Olives are usually served pickled. Stuffed olives are also common, normally with anchovies or peppers.
Croquetas de Jamón: Spanish ham croquettes are small, lightly breaded, and fried fritters, made with bechamel and ham.
Gambas al Ajillo: Sauteed shrimp in hot olive oil, garlic, and chili peppers.
Calamares a la Romana: Fried Squid Rings
Chipirones a la Andaluza: Miniature squid with a light breading, fried in olive oil, and seasoned with lemon and salt.
Jamón, queso y/o chorizo con pan: Spanish Ham, cheese and chorizo with bread.
Pa amb tomàquet or pan tumaca (or Catalan tomato bread): in Catalonia, bread is usually served with tomato spread, garlic (optional), olive oil and salt, oftentimes toasted first.
Pulpo a la Gallega: Galician-style Octopus, cooked octopus served with boiled. potatoes, olive oil and sweet Spanish paprika.
Ensaladilla Rusa: Spanish potato salad.
Huevos rotos (o estrellados): a combination of lightly cooked fried eggs that are served over fried potatoes and Spanish ham. The yolk is broken and runs over the ingredients.
Gilda: It is typically made with anchovy, peppers, and olives, served by itself or on top of a slice of bread.
Pincho moruno: Meat skewer normally of chicken, beef, or pork and sometimes it is cooked with red pepper and garlic.
Pimientos del piquillo rellenos: Goat cheese stuffed inside small red peppers, served with tomato sauce. Some variations remove the cheese and add tune, lemon juice, alioli, capers, and shallots instead.
Boquerones en vinagre: Anchovies marinated in vinegar, garlic, and oil.
Mejillones rellenos (or Tigres): Stuffed mussels made of mussel meat with other ingredients and stuffing it back into the shell, covering it with béchamel, and finally breading it.
Chorizo a la sidra: Spicy Spanish sausage cooked in Spanish cider.
Albóndigas: Spanish meatballs are usually small, seasoned very minimally, served with tomato sauce.
Gazpacho: Cold soup from Andalusia, usually served in the summer, made of tomatoes and olive oil.
Salmorejo: A creamier and thicker version of Gazpacho, made of fresh tomatoes with olive oil, stale bread, small pieces of Spanish ham and boiled egg and sherry vinegar.
Pimientos de padrón: Tiny green peppers that are fried, seasoned with salt, and eaten whole.
Pescaíto frito: Freshly battered fish fried in olive oil.
Migas: Bread crumbs fried in olive oil and various other ingredients to give the dish flavor, such as chorizo, bacon, peppers, garlic, onions, etc.

Basic Spanish keywords for ordering tapas
Tapa: Small appetizer.
Ración (portion) or media ración (half portion). Larger portions than tapas, meant to be shared.
Plato: Full dish.
Pintxo or pincho: Small appetizer, usually on a slice of bread, held together with a short skewer, a cocktail stick or tooth pick.
Montadito: Small appetizer tapa on bread.
Vino tinto / blanco / rosado: Red wine, white wine, rosé wine.
Caña: small cold beer, usually draught (draft)
Clara: Light body beer with some lemonade.
Tinto de Verano: A refreshing summer drink of red wine and lemonade.
Sangria: Summer drink made of red wine, chopped fruits and brandy or orange juice. Served cold with ice.
Infographic: Most Popular Tapas Overall and by Region
Infographic source: tasteatlas